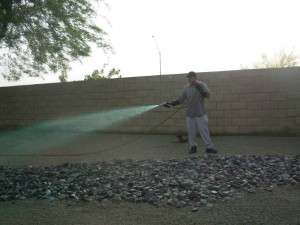 Southwest Ground Control offers high quality winter and spring weed control in Phoenix, Chandler, Scottsdale, Gilbert, Mesa, Queen Creek and Tempe. Our landscape services will also help you maintenance your tree and lawn to make sure the weed won't grow back. This will give you a greener winter.
Now! It's a great time to get your landscape and lawn treated with pre-emergent herbicide to prevent the Winter/Spring annual weeds and annual grasses.  It is also time to spray your Olive trees, so they don't make Flowers/Pollen and prevent the fruit. Here are some of the services we can do for our commercial, HOA and residential customers.
Landscapes:
Applying Pre emergent now to your landscape granite will prevent the Winter/Spring annual weeds and grasses.
Lawns:
Over seeded Winter  Rye grass & Dormant Bermuda/Hybrid/Tiff Lawns:  Pre emergent will prevent the burr clover and other annual weeds from growing when the turf is Dormant for the Winter. If your lawn already has weeds growing in it, we can also apply a post emergent herbicide to control them without damaging the lawn.
Crabgrass:
Apply Pre emergent to your lawn in Winter and prevent Crabgrass from coming up in Late Spring & Summer.
Olives:
Treating Olive trees between February and March will pre event them from making the fruit that make a mess, stains the surface below and create slip hazards.