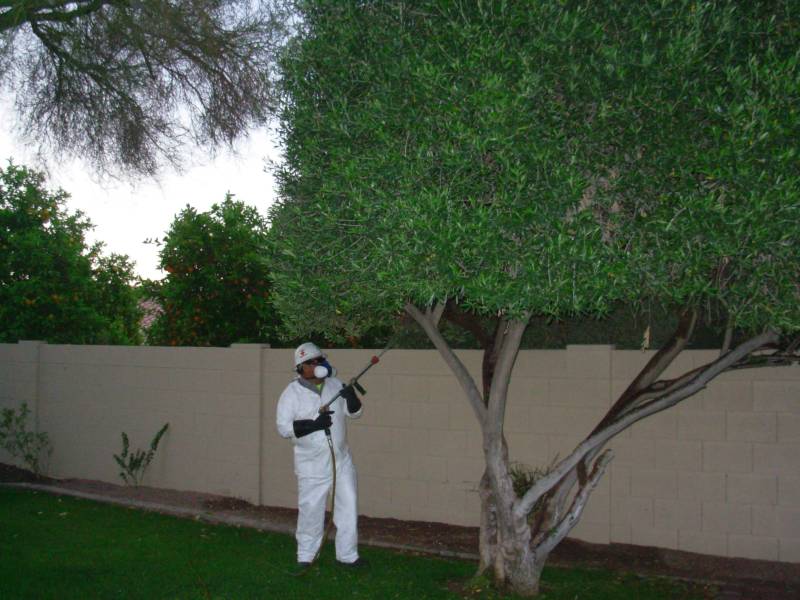 Southwest Ground Control offers professional pest control service to commercial and residential customers.
Protecting your investment. Your landscape is not only a significant portion of the value of your home, but also a source of beauty and pride.
FERTILIZING TREES & SHRUBS:
Fertilizing trees and shrubs with high quality fertilizer plus Micro nutrients and Organic material makes them bloom and grow more vigorously, and also greatly diminishes the chance of disease and insect infestation. Stressed trees are extremely susceptible to disease insect infestation that can cause severe injury or death. Insecticide can be mixed in solution with Fertilizer as a preventive maintenance or curative application. Maintaining the health of trees & shrubs costs a fraction of the expense of having to replace them.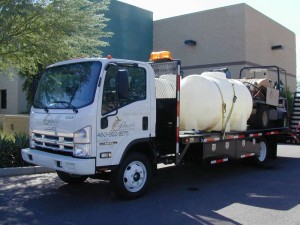 4 METHODS TO APPLY FERTILIZER TO TREES AND SHRUBS:
Foliar – drenching of the entire tree or shrub.
Flood – filling the well or bed with a pre determined number of gallons, depending on size.
Soil Injection – injecting the solution directly into the root zone with a pre determined gallon rate per injection.Basil bark spray – Flood the main trunk of tree with Systemic Insecticide. Gallons depend upon the DBH (trunk diameter of the tree).
The method chosen depends upon several factors: type of pest or disease, size of the plantings, soil conditions, the slope where the plantings are located and drainage.
FERTILIZING TURF: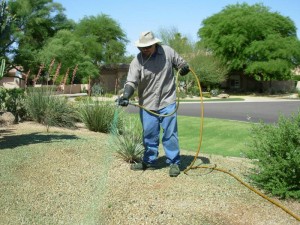 Benefits include denser tighter stands of turf that greatly diminish the invasion of unwanted weeds. Healthy stands of turf are much less susceptible to Fungi and insect infestation. Healthy turf can withstand and recovers quickly from heavy recreational use.
OLIVE & ORNAMENTAL ORANGE TREE SPRAYING: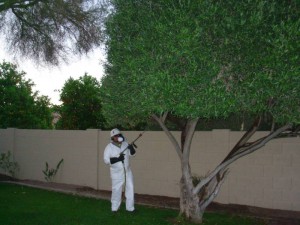 Eliminate allergy causing pollen. Olive trees (other than non-fruiting) are banned from being planted in the state of Arizona due to the excessive amounts of pollen released.
Eliminate the continual mess, staining and clean up from the fallen fruit.
Our professional experienced applicators have the knowledge of proper mix and spray rates. Inexperienced contractors can due more harm than good. Too low a mixture rate gives no results; too high of a mixture rate can cause stunted growth.
HARMFUL PESTS AND DISEASE: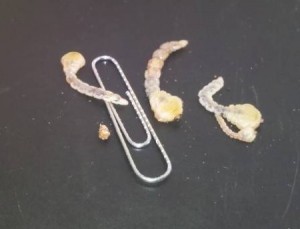 Trees, shrubs and turf are susceptible to disease and damage from harmful pests. When some or all trees or shrubs begin to show signs of stress, than chances are good that they are being attacked by pests, disease or fungi. Southwest Ground Control can identify, treat and control the problem to restore them to their healthy condition. We can save your landscape plantings at a small fraction of the cost of removal and replacement.
Some of the harmful pests common in Arizona that damage or can kill turf, trees and shrubs are; Aphids, Bark Borers, Root Borers, Mites, Whiteflies, Grubs, caterpillars and many others. We can control all of these pests without harming the plant or tree being attacked with a combination of contact and systemic insecticides.
Treating all landscape plantings and turf as a preventive maintenance is an excellent program to protect your landscape investment.
SCORPIONS & GENERAL PEST CONTROL:
We offer exterior power spray applications for the control of scorpions and general pests. We can incorporate the service into our Weed Control  bi-annual visits and offer excellent pricing and control.